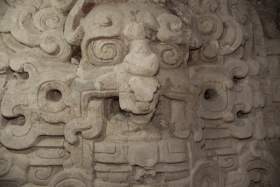 The Art of Maya Architecture:
Cosmology and Dynasty in the Built Environment
January 15-19, 2013
The University of Texas at Austin
The Maya Meetings return to Austin on January 2013 for five days of workshops and symposium.
The 2013 Maya Meetings will explore new ideas about the art and meaning of ancient Maya architectural decoration and design. The last several years of archaeological research in the Maya region has revealed many examples of ornate temple decoration, as well as important reconsiderations of the symbolism and significance of buildings long known to archaeologists and art historians. Using archaeology, iconography, epigraphy, and the study of architectural forms, the Maya Meetings will focus on the built environment as expressions of ritual, cosmological and political space. This year we will have a number of compelling presenters, including several rising scholars in the field of Maya research.
---
The Maya Meetings Workshops
The San Jacinto Conference Center is located on the first floor of the San Jacinto Residence Hall (SJH) on the corner of 21st Street and San Jacinto Boulevard. Entrances can be found on 21st Street and facing the Brazos Parking Garage.
Download Workshop Program (pdf | bytes)
Download Adobe Acrobat to access the pdfs on this page.
---
The Maya Meetings Symposium
The 2013 Maya Meetings Keynote address, opening reception and Lienzo de Quauhquechollan Exhibition location venue is the ART Building (ART) 1.102 room. The Venue ART is located at 2301 San Jacinto BLVD. Austin, TX 78712.
The 2013 Maya Meetings Symposium will take place at The Applied Computational Engineering and Sciences (A.C.E.S.) Building, in the AVAYA AUDITORIUM. The ACE Building physical address is 201 East 24th Street, Austin, Texas, 78712.
Download Symposium Program (pdf | bytes)
Download Adobe Acrobat to access the pdfs on this page.