Studying Abroad at Casa Herrera is a unique experience. The Casa is a beautiful expression of the Spanish Colonial architecture and it is fully renovated with all modern ammenities. Students take part of learning a broad range of subjects, along with immersion into the Guatemalan culture.
Antigua is located high in the volcanic highlands about 45 minutes from Guatemala City. This charming colonial town is one of the most beautiful communities of Latin America. It was founded by Spanish settlers in 1543, and soon thereafter became the seat of Spanish colonial government for the Viceroyalty of Guatemala. In the eighteenth century, the capital was moved to present-day Guatemala City, thus preserving much of Antigua's present charm.
As one of the most important cultural and artistic centers in Central America, Antigua has been designated an UNESCO World Heritage Site and draws a large number of international visitors and students every year
Obtain credit for all approved academic coursework abroad,effectively learn a language while being inmerse into the culture, and develop skills and experiences a classroom setting will never provide!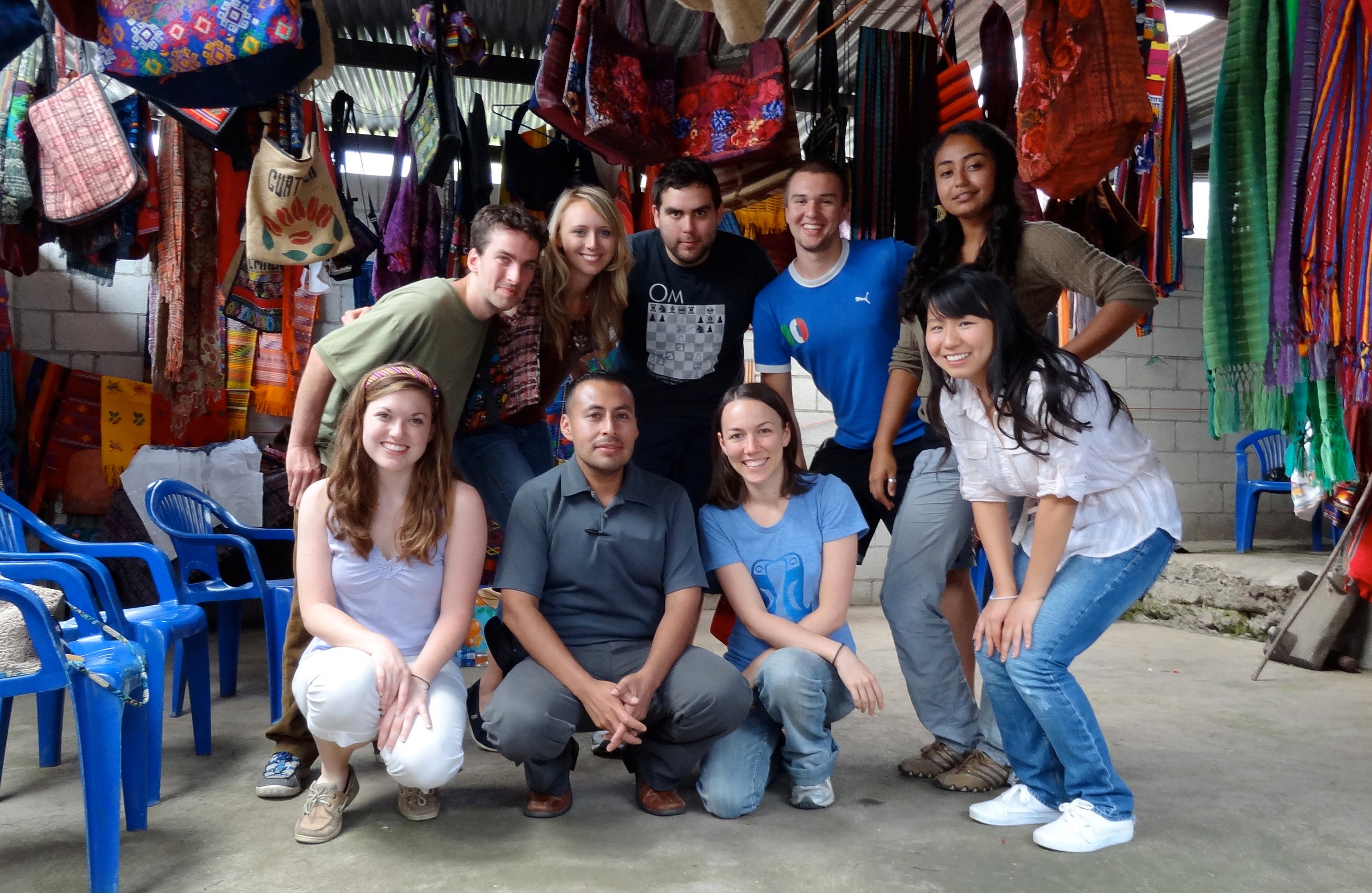 Why Study Abroad?
10 reasons why you should considering studying abroad next semester!
Obtain credit for all approved academic coursework abroad.Take the opportunity to break out of your academic routine; go abroad and still graduate on time.
Studying abroad is the most effective way to learn a language.By immersing yourself in a different culture, you will continually hear and practice speaking the language you are trying to learn in its natural context.
You will get to know another culture first-hand. Personally experiencing another country will allow you to expand your understanding of its culture beyond the surface-level differences in food, language, and appearances.
Develop skills and gain experiences a classroom setting will never provide. Being in a new cultural setting gives you an opportunity to discover new strengths and abilities, conquer new challenges, and solve new problems.
Make friends and contacts around the world. You will get to meet and mingle with the locals as well as other international students.
Learn about yourself. Return home with new ideas and perspectives about yourself and your culture. The encounter with other cultures enables you to see your own culture through new eyes.
Expand your view of the world. Studying abroad provides you with an informed and much less biased perspective toward other cultures and peoples.
It can cost the same or less than spending the same time at UT. Consider studying in a country that has a lower cost of living and save. Also if you qualify for financial aid at UT, you can still receive aid while studying abroad.
Study abroad enhances employment opportunities. To an employer, a student who has studied abroad is self-motivated, independent and willing to embrace challenges. Your experience in a foreign country will all set you apart from the majority of other job applicants.
It's a once in a lifetime experience. Once you graduate new responsibilities come up like a job, buying a car, rent payments, a mortgage, and other family responsibilities. It will be difficult to get away for any length of time and immerse yourself in a foreign culture.
Safe Travel Abroad
The University of Texas at Austin proudly supports its students, faculty and staff who travel the world in pursuit of research opportunities, outreach initiatives, and scholarly experiences. Whether you are a seasoned traveler or taking your first trip abroad, careful preparation can maximize your ability to enjoy a safe and successful travel experience. These resources provide useful information for pre-departure preparation, risk awareness, emergency assistance, and more.
(pdf | 99KB)
(pdf | 634KB)
---
Disclaimer for Casa Herrera Program
As a condition of Participant's involvement with or participation in the program activities, the Participant will release, waive, discharge, and agree to hold harmless the University of Texas at Austin from all liability arising out of or in connection with Participant's involvement with and/or participation in the program activities at Casa Herrera.
Participants of all Casa Herrera programs must acknowledge that the country/countries in which the Casa Herrera program activities may take place in whole or in part, or any other country through which the Participant may travel when involved with and/or participating in the program activities, or while in route to or from the program activities, may have health and safety standards substantially below those enjoyed in the United States. Participant must further acknowledge the inherent hazardous and dangerous nature of the program activities as well as the above-referenced risks of participating in the program activities or in traveling to, through or from the country/countries in which the program activities will take place, and must agree to assume all risk of illness, injury, or death from Participant's travel to or from the program activities and participation therein.
No University of Texas at Austin student, faculty, or staff can be required to travel to a Restricted Region. Any participation in travel to a Restricted Region is strictly voluntary, and the participant assumes full responsibility for all risks associated with this travel.